STUDYING AT NVS
Academics
---
The Curriculum:

The School follows the CBSE (Central Board of Secondary Education) syllabus and for this purpose uses the NCERT (National Council for Educational Research and Training) text books. Text books and reference books by private publishers are also used wherever they are found to be necessary.
Syllabus :

The syllabus is being updated as per the New Education Policy. As soon as it is aligned, it will be put up here also.
+
Curriculum of Std IX & X
+
Curriculum of Std XI & XII
Text Books:

The text books and notebooks are provided by the School and kept in the School premises. These are not taken home except with the permission of the Teachers or Principal. The School does not encourage parents to keep a separate set of textbooks at home. Further more it has been found that the lesson in the class and the self-study periods are usually adequate for the purposes of learning and understanding the material.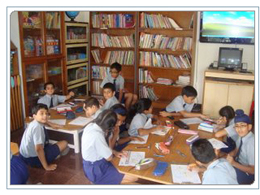 Self Study:

Students have a daily supervised self-study period, during which they complete their 'Homework" in order to reinforce the day's lessons. Students may however study at home for a test on the day before it is scheduled. Senior students may sometimes be required to spend time at home completing their assignments.
No Tuitions:

Students who are academically weak are given the remedial lessons by their teachers, at the School itself. No child needs those dreaded extra-tuitions at home. In some case, students who are found to be exceptionally slow learners may be advised to seek help from their parents to complete their work at home.
Reports Cards:

The Report Card is a very important part of the academic programme. It informs not only about the academic achievement of the students but also puts emphasis on the amount of effort being put in by him or her. It also indicates, through the informative comments written by the teachers, where the strengths and weakness of the students lie.
Promotion:

Promotion is based on the combined marks of the October and April Examinations. Students are promoted if they pass in English and get an aggregate of 40%. A 'Fail' in two or more subjects prevents the student from being promoted. If a student fails in one class twice, he/she can be removed from school.
Project Work:

To make learning creative, more meaningful and to make the students look beyond the text students are assigned projects in various subjects from time to time. This improves their comprehension, summarizing and presentation abilities